Ensuring Sufficient Stopping Power with Body Armor Brands from Arctos


At Arctos Industries, we understand the importance of providing law enforcement officers, security and military with reliable and high-quality body armor. Our partnership with MMD Armor & ShotStop Ballistics allows us to offer cutting-edge solutions that prioritize both comfort and stopping power. In this article, we will explore the significance of stopping power and how ShotStop's body armor addresses the specific needs of law enforcement professionals.


Understanding the Importance of Stopping Power

Law enforcement officers face unique challenges in their line of duty, particularly in active shooter situations. To better protect officers while they protect others, it is crucial to examine the level of stopping power offered by body armor. Many officers opt to double up on armor or seek additional forms of protection due to rising concerns. To address these concerns effectively, we need to delve into the different types of body armor and identify the stopping power required in law enforcement scenarios.


Common Soft Body Armor Ratings

Most officers are equipped with soft body armor vests that typically meet the NIJ Level IIIA standard, offering protection against handguns up to a .44 Magnum. However, some agencies may provide Level IIA armor that stops .40 caliber rounds or Level II armor capable of halting .357 and 9mm ammunition.
It is worth noting that officers may not always be aware of the specific rating of their armor and its ability to stop different types of ammunition. To gain more insight, check the label on the armor panels inside your vest and refer to the chart below, which outlines the ratings necessary to stop various bullet calibers.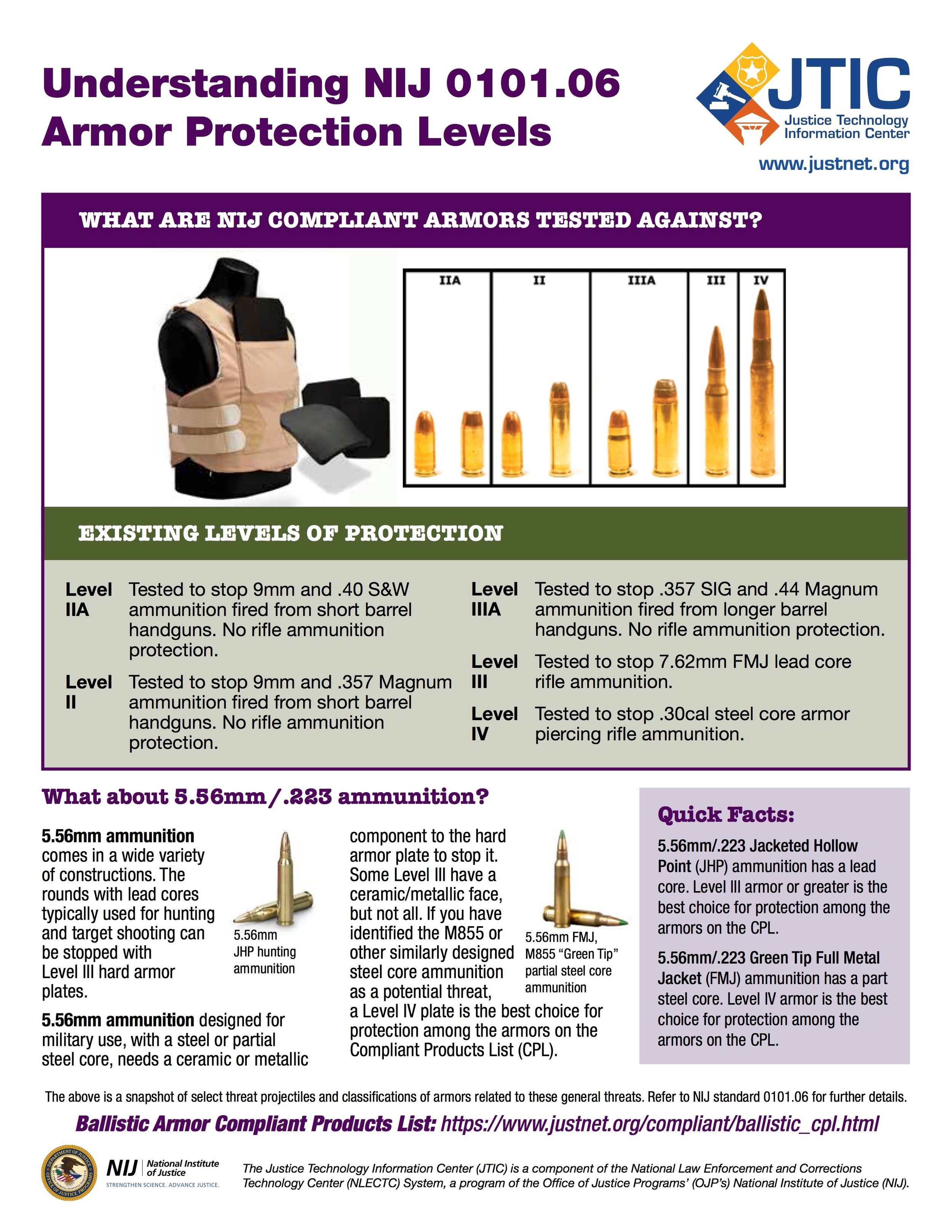 Considering Threat Levels

While the chart serves as a quick reference for protection statistics with various firearms, it is crucial to remember that active shooter situations rarely conform to standard charts or statistics. Real-world scenarios often require additional protection measures. For instance, having access to a plate that guards against "green tip" rounds, such as the M855 ammunition used as standard ball ammunition in the US and NATO countries, can provide confidence to officers facing extreme bullet threats.
Unfortunately, many officers are unaware that their standard armor may not hold up against green tip rounds, putting them at an increased risk. Ceramic plates can provide the necessary protection; however, they are often bulky and heavy. In contrast, ShotStop's Duritium GT2 plate, which has proven its capability to stop multiple rounds of M855 green tip ammo and M855 A1, is only 0.55 inches thick and weighs just 3.8 pounds. This lightweight yet high-performing option should be considered when evaluating body armor choices.


Differentiation Among Body Armor

Not all body armor is equal, even if it claims to have the same NIJ rating level. The key factor lies in whether the product has been tested by a National Institute of Justice (NIJ) accredited third-party ballistics laboratory. Internal testing by manufacturers is insufficient when it comes to protecting lives. The back-face deformation rating is another crucial aspect to consider. Back-face deformation occurs when the projectile impacts the front of the body armor, causing deformation towards the body on the backside of the armor. Trauma pads can help mitigate the effects of back-face deformation.


Considering the Warranty

Alongside evaluating the armor solution and understanding the required threat levels, it is essential to consider the product warranty or life guarantee. Describing the product life can help agencies convince decision-makers to invest in body armor that officers find more comfortable to wear. ShotStop offers warranties that are significantly longer than competing options, making it an attractive choice for agencies. Although our body armor may have a higher price point, its extended product life expectancy makes it a more cost-effective investment compared to alternatives.


The stopping power of body armor is a crucial aspect that law enforcement officers must consider to ensure their safety on the field. Arctos Industries, as a proud dealer of ShotStop Ballistics body armor, understands the significance of reliable protection. By offering advanced solutions that combine comfort and stopping power, we aim to provide law enforcement professionals with the utmost confidence in their gear. To learn more about our body armor solutions and find the right fit for your specific needs, contact a product specialist at sales@arctosindustries.com or call 1-800-611-3295 or use the form below.